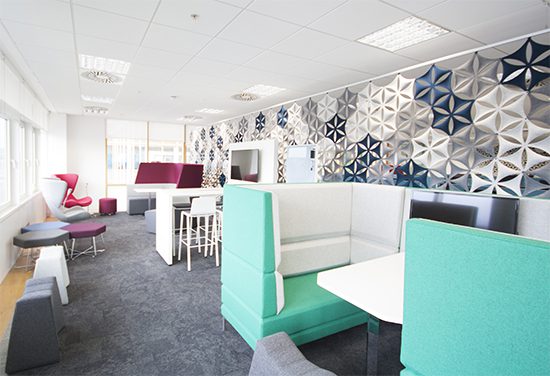 AIG Europe Limited is a provider of innovative products and services, including car, property, travel, health and identity theft insurance products to more than half of the country's top 100 companies as well as many public and private sector organisations and tens of thousands of individuals. They are also the proud main sponsor of the Dublin GAA Team #BackingEveryStep
Working in their Irish HQ offices in the IFSC, our brief comprised of the removal and replacement of the complete existing building ventilation system followed by retro-install of a new AC system with associated architectural and electrical works. The brief also included a full upgrade of all WCs throughout the building, installation of new mechanical chilling plant at roof level, a fixed line system for roof access, Landlord common area refurbishment and a complete re-design and fit out of the 3rd Floor office space. All works were conducted within a live, fully occupied building environment.
The new office design placed emphasis on increased Team collaboration with all new open plan workstations, meeting rooms, offices, boardrooms, flexible spaces, staff kitchens & canteen areas, breakout areas and a number of bespoke "Tech Bars" all part of the required brief.
Effective use of space was an issue in the previous office so the new office was designed with ample storage capabilities to reduce clutter. The overall look and feel of the completed offices are fresh, professional and welcoming with spectacular views across Dublin city.